The Townsville Dream Team Builders
Building your custom home is not just your dream, it is ours as well.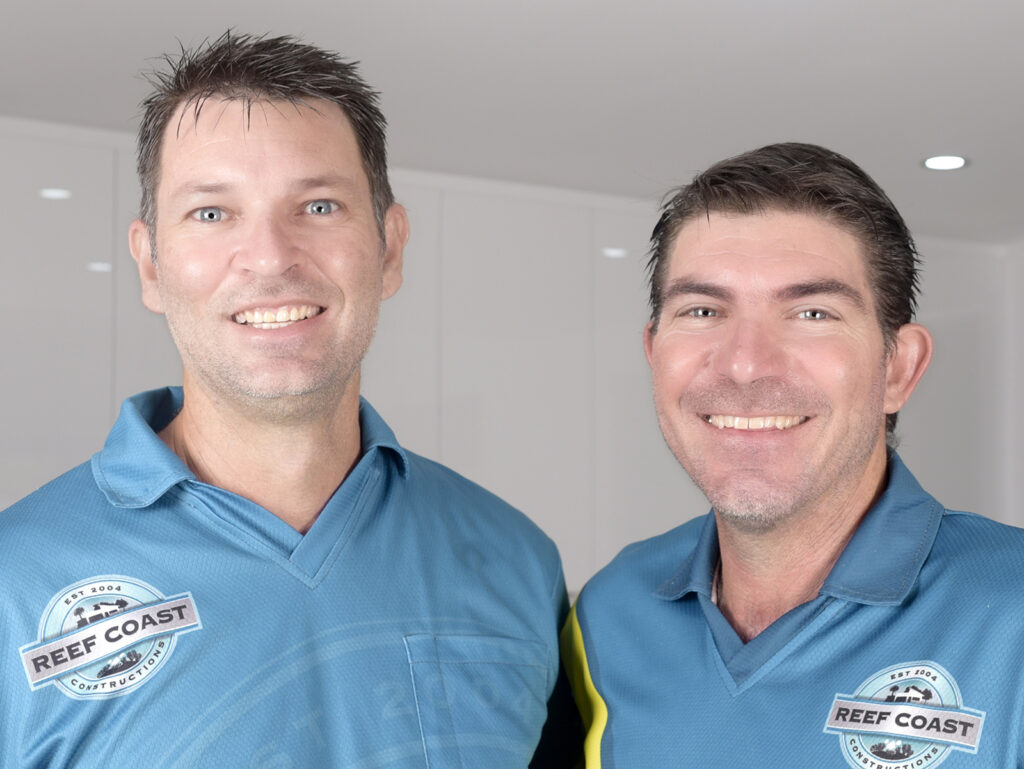 We are passionate about what we do. From the initial consultation and planning to the handing over of your new keys, our approach is to treat your experience with us in the highest professional manner, with as little stress as possible.
We started as a husband and wife team, with Rob being born and bred in Townsville, and established Reef Coast Constructions in 2005. "After many years in the building industry as a carpenter, my desire to build customised homes that were not just houses, but instead a true representation of the homeowner's self‑expression and lifestyle became my major goal", says Rob.
In 2017, we expanded our team with the addition of Cameron McInnes as Rob's business partner. Cameron, a qualified builder, also brought his own industry expertise and experience to Reef Coast Constructions. Having common core values and passion for the industry, Rob and Cameron now provide our clients with a unique and valuable experience, with both partners being qualified carpenters and licensed builders. This brings over 50 years combined project management and construction experience to each custom build.
We see every new home we build as an experience to not only express our enthusiasm for what we do, we also feel very honoured that we are able to create homes of beauty that will be remembered for generations to come. It is with that mindset that we set all our ideals and standards.
Our Values and Principles
All materials and craftsmanship are of the highest quality.
We understand it is tempting to save a few dollars on fittings, flooring and other bits and pieces. Unfortunately, all too often these products fail the test of time and the replacement costs far outweigh the savings. Your custom home is your sanctuary and needs to be tailored specifically to you. After all, you are making a long-term commitment, and its lasting excellence, worth and ongoing beauty are our leading priorities as builders.
This is why we start by carefully choosing housing products of exceptional quality and value. Our highly experienced staff have extensive knowledge in product reliability and aesthetics and work closely with you to find the style and features you wish to showcase in your home.
We believe in building prestigious, memorable homes and strive to exceed your expectations in line with your building contract. At every stage, communication is transparent, ongoing, and directly with the builder. There are no hidden fees, unforeseen expenses or nasty surprises waiting to crush your building budget.
We know this is a huge decision and investment of time and money for anyone to make. There are aspects of trust, price and specific needs to be addressed. That is why we provide tailored advice, using terminology you understand. From your first contact with us, throughout the planning process and construction, to final completion, our focus is on your satisfaction and building the home you always wanted.
Our Skill Set
The same qualifications, standards, and professionalism we would expect.
Reef Coast Constructions holds a Queensland Building and Construction Commission (QBCC) Medium Rise Building Licence and is a proud member of the Queensland Master Builders Association, Independent Builders Network and Association of Professional Builders.
We are fully committed to maintaining professional industry standards and stay ahead of our competition by following the latest in building techniques and trends in the Townsville region. We invest in keeping ourselves and our staff up to date with training, knowledge, and current financial aspects of the building industry, making sure you receive the same high-level service that we would expect from someone building our own home.
Supported by Master Builders contract documents, Reef Coast Constructions takes seriously the emotional and capital investment you make when it comes to the construction of your dream home. With our partnered approach to the construction process, we build your hand-crafted home, specifically for you. As our client you become a valued member of the Reef Coast Constructions Family.