Project
Windermere House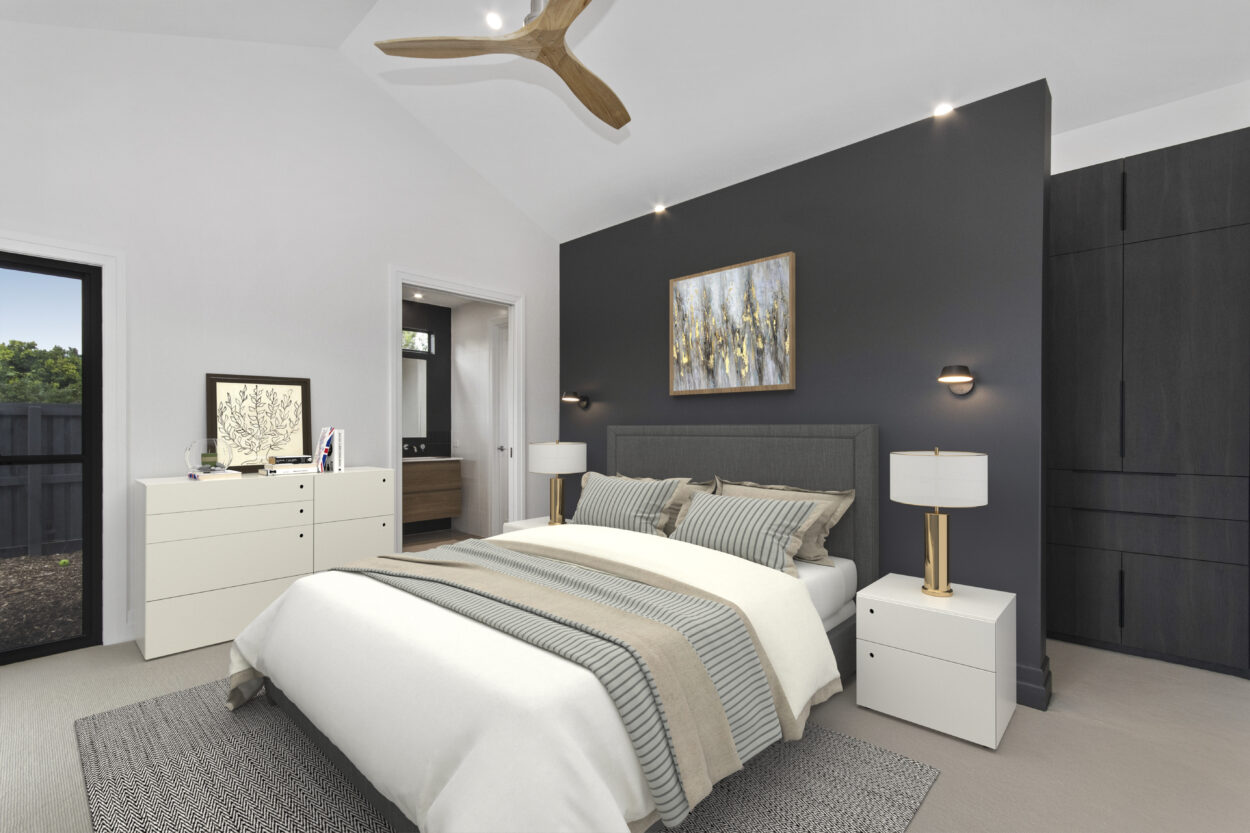 This complete custom designed home is a rarity for the Townsville landscape.  The Home is a single storey slab on ground construction with full timber, lightweight exterior and interior framing.  The home features full wall and roof insulation along with multiple James Hardie claddings providing a completely different aspect from every angle that you look.  With masonry block so prevalent in Townsville, this home is a breath of fresh air and provides for a much more energy efficient living standard for our client.
The home was specifically designed with a holistic view to the owner's lifestyle and location.  Capturing the prevailing breezes to create a naturally cool home through the use of orientation, air flow management and energy efficient construction.  This is why the living area pavillion is on an angle to the garage/sleeping pavillion of the home and linked through the entry breezeway.  The offset angle allows for the prevailing breezes to be captured through the front entry and the living area patio and then funnelled through the remainder of the home as well as providing a unique street asthetic.  The natural cooling of this home is perfect for the North Queensland environment and bests any masonry home for style, efficiency and comfort.
With 4 bedrooms, 2 bathrooms, open plan living as well as a butler's pantry, study/office, retreat and 2 outdoor living spaces, there is ample room for any family.  Floor to ceiling tiling adorns both bathroom and ensuite to provide resort style wet areas including the wet room in the bathroom, and his and hers shower and vanity for the ensuite, in‑wall cisterns and high quality tapware.  Pitched rafter vaulted ceilings in both the living area and master bedroom provide additional wow factor along with the high level specification and finish to all aspects of the home.  The use of high quality carpets in the bedrooms softens the feel in the sleeping areas for added comfort and the practical and highly effective vinyl planking throughout the traffic areas provides both a durable and asthetically pleasing feel and look.  Custom joinery is in every wet area along with the kitchen, butlers pantry, bedrooms and walk‑in robe.
There has been no stone left unturned in finishing this home, right down to the concealed retractable magnetic door stops.  The exceptional skill level and workmanship quality of all trades involved in this project is evident at every turn throughout this home.
Our Owner's dream home has become a reality.  With our owner being the designer of the home it was a proud moment when she commented that "her vision had turned out just as she had pictured when she was designing the home."
When asked the question, "did we live up to your expectations?" Natasha wrote, "the end result is absolutely amazing and we're thrilled with our new home.  So, thank you so much for flexibility in working with us on such an unconventional build, we truly appreciate all efforts to accommodate each request on our part."
Project Gallery